My Weekly hug is from my two children, Joseph and Alice
This is Alice giving her big brother a big fat kiss. She loves her brother so much. He is the first name she shouts in a morning when she wakes up and is the last thing she shouts on an evening. She does a lot of shouting.
Joseph loves his sister so much also, I imagine this won't last and soon they will be arguing constantly but for now i am enjoying the fact they they adore each other.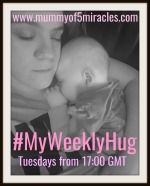 Subscribe to One Hull Of A Dad
Follow